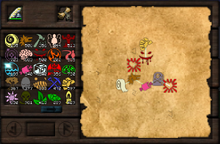 The Top Hat is an accessory that can be worn by golems. It increases the health of any wearing golem, regardless of type, by 3 hearts(6 health points).
"This tiny hat is the perfect accessory for any golem. Not only is it stylish and dashing, but any golem wearing it will have increased health and vitality."
For the aspects you'll need 8 Ordo and 8 Ignis.