This is a guide to everything in Thaumcraft. To make one, simply create the basic stick/iron Wand and use it (right-click with it) on a placed (vanilla) bookshelf.
To make the two caps required, place iron nuggets in the same pattern as you would ingots when making a helmet. Then place a stick in the center with the shiny new caps in the top-right and bottom-left corners of a crafting table.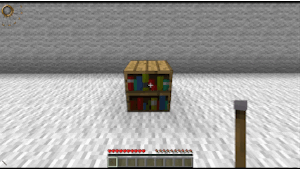 Artifice - Includes Enchanting
Eldritch - The only tab locked at the beginning of the game. Unlocked by gaining a large amount of Warp.
Apimancy - Magic Bees add-on
Automagy - Automagy add-on
Thaumic Tinkering - Thaumic Tinkerer add-on
Apocrypha - Forbidden Magic add-on
Tainted Arts - Forbidden Magic add-on
Witching Gadgets - Witching Gadgets add-on, ties in to other mods such as Twilight Forest and Draconic Evolution
The icons used to mark entries have a fairly consistent meaning. While usually not of any particular help to players, it can be satisfying to find out what they mean.
If I'm not mistaken, usually, the circle icons mean the research is free (given automatically when precedent researches are competed), squares mean you must play a research note mini game to complete it, and hexagons mean you must "buy" it with research points.
When the icons are yellowish, it seems to mean that it is a hidden research, and you must complete an action of some sort, like scanning something, to unlock it.
If the icon has tabs at the corners, it seems to mean that the research, when completed, will influence events in the game directly, such as making you more efficient while researching, or allow you to complete other actions, like making a portal.
If the icon has a purple cloud around it, it means it's forbidden knowledge.
Community content is available under
CC-BY-SA
unless otherwise noted.