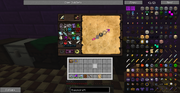 Magic tallow is a useful thaumaturgic material used to make candles and other things. Candles glow like torches but have no solid hitbox.
Crafting:
Edit
Crucible:
Rotten flesh into a crucible containing 2x Praecantatio Essentia.
Candles:
Edit
Arcane Crafting Table:
2 magic tallow in the middle slot, 1 below and a string above.